If you can find it, get it. The squash, not the kids;) And get more than one! Squash again;) They are special, not always around in Japan. Yes, the kids too. I got mine from JA farmers market (squash still), thanks to my dear friend Yuka's suggestion. Her soup recipe is almost identical with mine, but I must say the taste is much better with butternut pumpkin.
This is a special recipe post (the fast & simple recipe is
here
), because of it's extra bulking tips for us super busy with kids in tow. You get here four in one: pumpkin soup, pumpkin steamed for freezing and
bento adding, art activity for kids and a burned pan natural remedy. Cause that's what I was dealing with yesterday and that's how it is for any mom... Not just nice clean pumpkin soup to focus on.
Let's keep it real.

So, when you find a butternut pumpkin, get 3 of them to save time and have fun!


BUTTERNUT PUMPKIN SOUP (+ STEAM, + creative time for kids)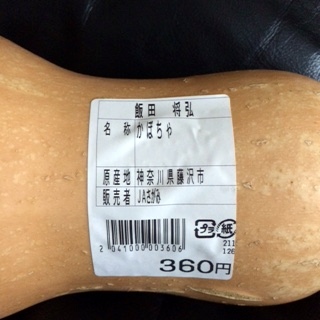 JA farmers market freshness and price


Ingredients:
1 onion
1 potato
1 butternut pumpkin
10g fat (I used a splash of olive oil to aid against burning the part of butter, and a part of turmeric ghee, because I had it, and it matched nicely, but just butter would be fine)
2 cups water (or broth, if I didn't burn mine earlier that day it would go in, but than I wouldn't give you the bonus of the natural remedy for burned pans;)
2 cups milk (I used organic cow in this case, but surely you can experiment with soy, nut, coconut… if you wish. I would actually use less milk and more water ratio next time.)
1 tsp salt
Pepper to taste
* recently I was told about this milk and dairy products, totally going to switch to that

Method:
Dice your onion and put to fry on butter, low heat
Peel and dice your butternut and potato
Add to pan and saute nicely (meantime peel and dice your second squash and create a job for you smallest child to transfer it all to a steaming device, sure, taste it raw!)
Add 2 cups of water to your sauteed vegetables and boil for about 10 minutes (also set the batch to steam on a second burner, set timer for both for 10 minutes, but less would be fine I think. Then set your own and neighbor's' kids around the 3rd pumpkin with instructions to sketch it. Do your own if you care for it.
After timer's up add milk, salt and pepper to your soup and blend it (I blend ⅔ because we like some chunks in too)
Cook a bit more (not really necessary I think)
Offer the plain steamed cubes to the kids (they loved it, "umai!"), leave some around for dinner and following day bento, cool and freeze the rest for another day's fast meal (400ml ziplog case left for me, good for one more soup later or to stir fries, hashs or whatever)
Leave pumpkin no#3 for another day when you're ready to grill it, but first let kids draw the cut for a change. (For bake: peel it, slice it about 0,5-1cm thick, spread on a baking sheet, pour olive oil and salt over, then bake/grill at 170℃ until soft and slightly crunchy on the ends.)

FAMILY AFTERMATH:
Kids ate quite a lot of the steamed stuff then only couple of tablespoons of the soup (ok with me), instead they finished fried Quinoa & vegs & cheese they left from breakfast
Husband and wife loved it (so grounding, anti-stress:)
stuff left in fridge and freezer for many days (that's why I have time to write a post about it now!)
Bonus:
BURNED PAN NATURAL REMEDY

So, I said I burned my broth that day. It happens (understanding from fellow moms, yes, from husbands, no, we know why). In the morning I put half a chicken with root veggies to do the nutritious trick themselves and then I completely forgot about it (always put timer, me!). It was a state of art scorch. But, pan soon as new and so easily with this non-toxic cleaning tip.

Ingredients:
Water
Vinegar
Baking soda
Method:
Cover the bottom of your burned/scorched pan with water, the least possible, add about ⅔ or ¾ of vinegar, bring to boil.
Add baking soda, watch it bubble (always fun), take of fire. Leave for couple minutes.
Peel the worst of so smoothly it goes with your finger. Really. My extreme burn took second bubbling and a bit of scrubbing after that, but still magic.
Have you gotten
my book Blake The Snake
that humorously incorporates some digestible wellness messages for both mom and child yet?